OVW Wrestler Benjamin Bray in the Interview
Here guys a very nice and interesting interview I've done with Benjamin Bray aka Ben Mitchell about his OVW work, who he looked up too and many more.
1. How long do you wrestle in OVW ?? - I have been wrestling with OVW for 2 and a half years now. I was trained by Nick Dinsmore, Mike Mondo, and Rip Rogers. Rip is the man I consider to be my main trainer.
2. What was your favorite match in OVW or in other promotions ? - My favorite match of all time would have to be a tie between A match I had with Ali Vaez 1 year ago. This was an intense and emotional match up that got me noticed for the first time as a singles wrestler. Another is a match I had with a man named Adam Revolver in a town called Elizabethtown, Kentucky. This man has taught me so much and the match taught me how to truly make an audience care about you. My third is the experience of having my head shaved by CM Punk in front of a sold out WWE crowd in Chicago. Punk is a great guy and even though he comes off in a way that some people dislike. He was always very nice to me.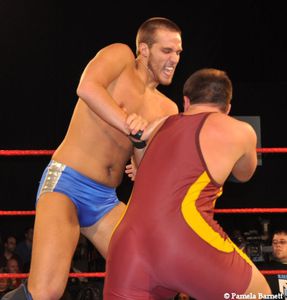 3. Who is your favorite former OVW Diva wrestling skills wise ?? Many OVW Divas came out from OVW, so that might be a tough one ;-) - Oh skillwise not dating wise. lol My favorite Diva in OVW would have to be Serena. She wrestled more aggressively than any girl I had seen in my time in OVW. She is the best female wrestler I've ever trained with.

4. Which person did helped you in your career the most ?? - Joey Mercury/ Matthews is the person I credit to teaching me how to be a man. He taught me so much about wrestling and there is a reason he is the trainer in FCW right now. He is amoung the elite when it comes to being an artist of our fine craft.

5. What is the planned for the future ?? Wrestle overseas ?? - My plan currently is to make it to the top of OVW. I want to be one of the main players here. Overseas would be amazing European History has always been my favorite area of study and would love to experience different cultures. Lets just say you might see me in Germany sooner than you think.

6. Why did you change your ring attire now to trunks ?? You had before tights and also a singlet.... - Well I switched to tights because my back and legs are my best physical features. Not to mention I dont like to wear a lot of clothes.

7. Did the officials come to you and said "You need to change the ring attire" ?? - No way my former tag partner and Andrew had very homosexual overtones with our characters. He never wanted to get the small tights, but once he left ovw I knew it was time.

8. You ever received a wedgie ?? - No way man, you can't get a wedgie if you don't wear underwear.

9. Do you automaticly adjust them or do you show for the fans a little bit "backside skin" ? ;-) - Oh I pull them up, one fan always tells me to put clothes on. He isn't me though haha.

Fan Question, Rico (Boise, Idaho): Is it possible the trunks will be more shorter/tinier ?? - I don't know how I can wear any less without just showing every single part of me.

We are also happy to announce that we have a partnership with Ben Mitchell and we are helping him to get some bookings from german wrestling promotions. Please when you want to see him at wXw, write a mail to them or any other german promotion.
Oh and before we forget it, when you have a question next month for the next BIG interview with Benjamin Bray write us a question on Twitter or on Facebook. Twitter: twitter.com/Hot_Wrestlers or Facebook: facebook.com /HotWrestlers